Please click on the following link to register for tryouts for KC Elite.

Registration Form

A belated congratulations to our KC Elite Gold 15u for taking the TC Fall Tune-Up championship. They finished the weekend with a 4-0 record and won the championship 9-8 in a very good game with Ambush baseball. Good job boys for a great weekend of baseball. ...

A belated congratulations to the KC Elite Rebels 12u team for taking second in the TC Fall Tune-up. After going 2-1 in pool play they NLS Monarch's team that had spread them 15-5 on Friday night they came back in the championship game and played that ...



Congrats again to the White 16u on capturing  the Briley's Sonics Blast Championship this past weekend. Keep up the good work boys! Well done to coaches Steve Willis and Cody Higgins also contributing to this weekends success by the boys is Larry ...

KC Elite would like to congratulate the our 15u Gold team on winning this past weekend's 3&2 Briley's Sonics Blast tournament. The boys played well from start to finish and won the championship game in dramatic fashion with a 12-inning walk-off win. ...

[caption id="attachment_4235" align="alignleft" width="169"] 2015 68 Labor Day Classic Champions[/caption]

Congrats to the 16u White team on winning the 68 Labor Day Classic tournament. The team battled through sick & injured players but still ...
 kc elite tryouts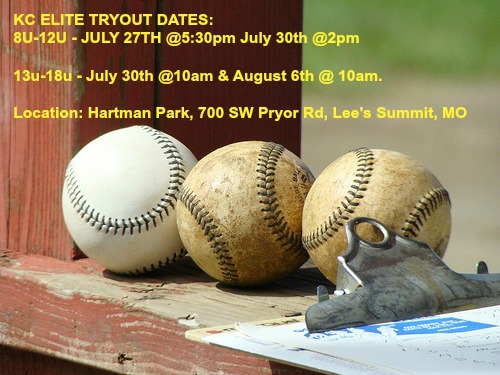 2016 College Commitments
Tyler Pittman- KCKCC
Justin Loman- Avila University
Brigham Mooney- KCKCC
Tyson Cushman- Pitt State University
Tyler James- Drury University
Tyler McKay- Kansas State
Tyler Clark- Pitt State