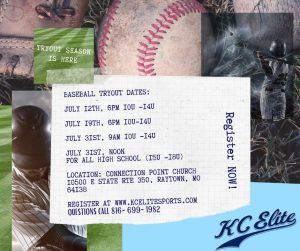 2021 Fall season tryout is upon us. We are excited for the new season because we have spent some much-needed time working on an awesome package for parents/players. Steve Baker from our management team and development coach worked hard for us to be able to offer what we consider an All-Inclusive package for baseball this year.
We are so excited to continue to work with our partners, especially http://www.thedugoutkc.com/ which has been our winter home for several years. Now all of our players will be able to put in extra work.
Now ALL our player fees come with everything you will need for an entire season.  All of our current players are so excited about this new package that we can't wait to share it with you.
So register your player for one of our tryouts. REGISTER HERE